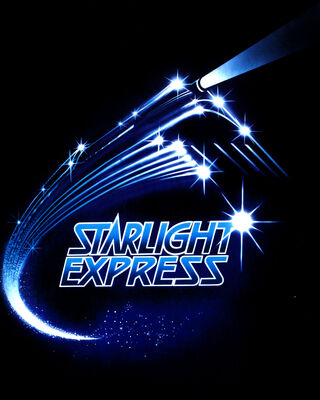 Starlight Express is a show like no other. It's musical theatre, it's athletic, it's imagination, it's a dream. It's the impossible made real.
We follow the story of Control, a child playing with their toy trains. Control is sent to bed, and as they fall asleep and dream, their toy trains come to life. It's Race Night, who's the fastest engine in the world? Who will win, Diesel, Electricity, or Steam? Will Rusty, the little steam shunter, ever win the heart of the beautiful new girl Pearl?
About Starlight Express
Starlight Express is a rock musical by Andrew Lloyd Webber (music), Richard Stilgoe (lyrics) and Arlene Phillips (choreography), with revisions by Don Black (lyrics, 'Next Time You Fall in Love'), David Yazbek (music and lyrics for the 2nd US tour) and Alistair Lloyd Webber & Nick Coler (composer and lyricist respectively, 'I Do' added for the 2nd UK tour), and designed by John Napier. The story follows a child's dream in which his toy train set comes to life; the actors famously perform wearing roller skates.  
Starlight Express is one of the longest running musicals in West End history running for nearly 18 years (7,406 performances), but the Broadway production only ran for under two years (761 performances). It is the most popular musical show in Germany, and has been running for 30 years. A new production toured the UK in 2012, produced by Bill Kenwright Productions.  As of 2013, the rights have been released for regional and schools productions. 
This Wiki is designed to collect ALL information and opinion on this unique show, from casting requirements to fan art. We have a section for Amateur/Schools productions, please add some info if you're in a production yourself!  
Find Out More...
Really Useful Group's Website - covers all productions
Categories
Looking for something specific? Browse through the following categories...
Songs and musical numbers - and those deleted from the show...
Backstage - how the show is run behind the scenes
The Artists, Creatives, and Cast
Help Us Out!
Wikis are group projects, so please, contribute anything you can! Jump in and create any missing pages, add information for each production, each character, your favourite actors...
This is a website anyone can edit, but because of that, please don't be precious about your words. Remember that your opinion is as good as anyone else's, no better or worse. And there's some things that are facts, some things are opinion. All are welcome but don't confuse them!
Disclaimer
"Starlight Express the Musical Wiki" is a fan site and has no connection or affiliation with the Really Useful Group or any other profit-making entity. All brochure photographs are copyright and are used without permission. No profit is made from this website. All material here is for reference and archival purposes only.
Latest activity