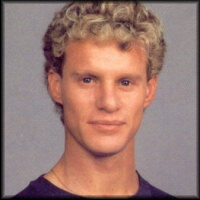 Starlight Express History
Edit
Japan/Australia Tour - 1987-88 - Caboose
London - 1988 - C.B.
London - 1989 - C.B.
1988 Biography
Edit
Peter was born in Australia and began his professional career at the age of 19. Theatre credits include the Australian tours of Elvis, The Stage Musical, Jesus Christ Superstar (including Hong Kong and Singapore), The Rocky Horror Show, The Pirates of Penzance and the pantomimes Peter Pan, The Magical Tail of Puff the Magic Dragon and The Wonderful World of Mr. Men (Mr. Small). He has performed in revue, theatre restaurant and cabaret both in London and Sydney, and made several television appearances. Prior to joining the Japan/Australasian tour of Starlight Express Peter had been performing in the current production in the West End.
Ad blocker interference detected!
Wikia is a free-to-use site that makes money from advertising. We have a modified experience for viewers using ad blockers

Wikia is not accessible if you've made further modifications. Remove the custom ad blocker rule(s) and the page will load as expected.