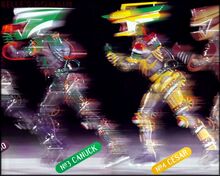 The more obscure productions of Starlight Express added new Nationals or replaced some of the regular entrants.
The "On Ice" production was non-replica, and introduced "Canuck the Canadian Engine" and "Cesar the Mexican Engine" to bring more regional relevance to the US tour locations, alongside Bobo, Espresso, Nintendo and Prince of Wales, therefore replacing the German and Russian engines.
Starlight Express Mexico
Similarly, in the same year 1997, the Mexican production was mounted in a legal grey area concerning copyright and replicating the original. They also included several more local engines -
Carioca from Brazil -
"Carioca runs the Brazilian Express. He supports Rusty in his quest to win the race."
He has a yellow on green design with a box piece on his chest with the Brazilian flag. "Carioca" refers to an area of the Brazilian city, Rio de Janeiro.
Conan from "Europe" -
"The most popular of trains - the Orient Express".
El Pibe from Argentina -
"El Pibe runs the Argentine Express. He hates Conan and has a crush on Ashley."
Given the massive scale of the arena tour, the ensemble were doubled up to allow more performers to fill the stage. While the doubles appeared identical to the original Nationals, they were given separate names. These names were not consistent for the second, 1990 tour -
Bobo - Coco
Espresso - Pendelino
Weltschaft - Flying Hamburger
Turnov I - Turnov II - Vladimir
Hashimoto - Nakamura - Yamamoto
Ad blocker interference detected!
Wikia is a free-to-use site that makes money from advertising. We have a modified experience for viewers using ad blockers

Wikia is not accessible if you've made further modifications. Remove the custom ad blocker rule(s) and the page will load as expected.