Starlight Express History
Edit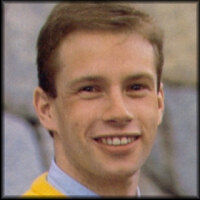 Japan/Australia Tour - 1987/88 - Flat-Top
Passed away in 1989.
Performed in Cats
1988 Biography
Edit
Michael was born in Gateshead, U.K. His first great success was in trampolining, achieving five British and one World title. He then moved to London and appeared as Bill Bailey in Cats for two years, followed by Tik Tok in Walt Disney's Return to Oz, and then went on to his best know work as co-presenter of BBC's Blue Peter. Since leaving Blue Peter Michael has appeared in Creatures of Light and worked for the RSC on Real Dreams. TV appearances include: Tucker's Luck, Kenny Everett Show, Marmalade Atkins, Breakfast Time, Saturday Picture Show, Strike, Summertime Special, Arena and The Cleopatras. Films include: Dreamchild, Top Secret, Forever Young, Lionheart and Superman IV. Michael has recently completed a British national tour of Seven Brides for Seven Brothers playing the part of Gideon.
Ad blocker interference detected!
Wikia is a free-to-use site that makes money from advertising. We have a modified experience for viewers using ad blockers

Wikia is not accessible if you've made further modifications. Remove the custom ad blocker rule(s) and the page will load as expected.