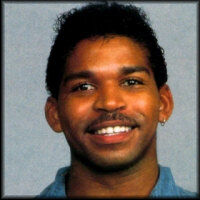 Starlight Express History
Edit
Japan/Australia Tour - 1987/88 - Rocky 2
Broadway - 1988 - 89 - Swing
Bochum - 1989-90 - Swing
Bochum - 1990 - Swing
Bochum - 1991-92 - Swing, assistant Dance Captain
Las Vegas - 1994-95 - Swing
Performed in Cats
1988 Biography
Edit
Marvin received a B.F.A. at North Carolina School of the Arts and trained with Alvin Ailey. He has been associated with Cats and The Wiz on Broadway, playing Mephistopheles in Cats, on the National tour, and The Messenger in The Wiz in the Broadway revival. Marvin has played in regional theatre in the U.S.A. in various roles including Benny in Guys 'n Dolls, Jester in Once Upon a Mattress and Pepe in West Side Story which he left in order to fly to London to start rehearsals for Starlight Express. Other work includes trade shows for MacDonald's and State Farm and dance soloist and singer in Hurray for Hollywood, Eighty with Fort Eight, New World Festival of Arts and The 1986 Liberty Closing Ceremonies.
Ad blocker interference detected!
Wikia is a free-to-use site that makes money from advertising. We have a modified experience for viewers using ad blockers

Wikia is not accessible if you've made further modifications. Remove the custom ad blocker rule(s) and the page will load as expected.