Joule is one of Electra's Components in Starlight Express. Hot-headed and fiery, she is usually designated as the Dynamite truck.
Personality
Edit
"Joule was the animal truck, carrying Electra's "pets", but when she crossed the Atlantic for Broadway, she rethought her personality, and switched to the dynamite business."
Joule is wild and fiery, a tempestuous, emotional character. She is quick to anger, and very flirty.
While Joule is usually the last of the Components to change gender, she was played as male by Gary Albers for the final months of the Las Vegas production.
We first meet Joule in the introduction to AC/DC, as Electra's components appear from the haze. She argues with Volta as to whether Electra is "Hot", or "Cool". Joule is usually the first Component to be seduced by Greaseball's Rock'n'Roll in Pumping Iron, leaving her master to dance with his rival.
Joule finds herself a race partner in Weltschaft/Ruhrgold, and depending on the production, they do well. In the German production, the German engine makes it to the final. In other productions, he is knocked out in the 2nd heat, allowing either Bobo (London production) or Hashamoto (American productions) to take the 4th race slot. In the London production, Joule is furious at losing the race, and hauls Ruhrgold to his wheels, and spanks him as they leave the finishing line.
Appearance
Edit
In the original London production, Joule was a slinky red and silver truck with a white bib, the train equivalent to Bombalurina in Cats. This was in keeping with her designation as an "Animal Truck". The white bib emphasises her bust, as well as giving the feline bib link. Her silver leggings are a detail coded in the Starlight Express designs as bare flesh (for example, also seen on Greaseball's arms and torso) meaning she is wearing only a high-cut leotard. Her wig is large and fluffy, originally three-toned white at her face, red, and black at the centre back. Gradually this developed to more white with less black, eventually ending patterned white with red stripes as the German design. However the London costume design never gave Joule a smaller wig.
Broadway/Bochum
Edit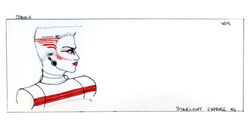 Joule's costume design was given a complete overhaul for the Broadway production. No longer was she an Animal Truck, but re-designated as a Dynamite Truck. There are few similarities between her two looks, beyond the colouring of the wig and general features such as leotard line.
Dynamite Truck Joule has a tanker-influenced shoulder box, with curved ends. Her box says "
Liquid NitroGycerin
". Unusually, Joule's costume design does not include a visible belt, however the practicalities of the choreography require her to have a belt. It is hidden underneath her leotard as seen in the backstage image. The actresses wear black skates. Out of all female components, Joule's outfit is said to be the most comfortable.
While Joule's German costume has remained essentially unaltered since 1988, her wig has undergone constant development. The Broadway design calls for a severe, angular crop, white-blonde with red streaks. However this design developed, with Joule sporting a high braid at the back, which looked almost unaltered from the front but gave more movement when dancing; she has worn longer hair styled up into flames, which also included UV-reactive paint; her hair has been long and loose, not dissimilar to the London style; but most recently her style has been a fauxhawk, styled up into a crest similar to Electra's, but without the shaved sides. Her 2014 wig reaches below her waist, giving her length of hair to rival Pearl.
Joule's makeup design is one of the most iconic and distinctive looks in the show. She has strong, angular lines over a pale base, lots of red glitter, and enormous eyelashes.
The US/UK Tours costume has remained true to the Broadway design, however the stark contrast between the silver metallic squared and her dark navy base show the wear to the costume quickly. Without constant maintenance, Joule looks worn out and shabby.
Relationships
Edit
Joule is one of the Components, so has unswerving loyalty to Electra, and is very close to the other components. Often choreography pairs her with Purse. She races with Weltschaft/Ruhrgold, and is frustrated when he fails to win. Joule has been seen flirting with Dustin and Flat-Top, and just about any other character onstage, dependant on cast. Joule and Volta are often considered to be sisters in the fandom.
London
Japan/Australia Tours
US Productions
Broadway, 1987 - 1989 - Nicole Picard / Kimberly Blake
US Tour, 1989 - Angela Pupello
Las Vegas, 1993 - 1997
US Tour, 2003 - Kelly Stensland
UK Tours
NZ Tour - Melanie Firbank
2012 UK Tour - Lisa Dahmane
Bochum
Ad blocker interference detected!
Wikia is a free-to-use site that makes money from advertising. We have a modified experience for viewers using ad blockers

Wikia is not accessible if you've made further modifications. Remove the custom ad blocker rule(s) and the page will load as expected.