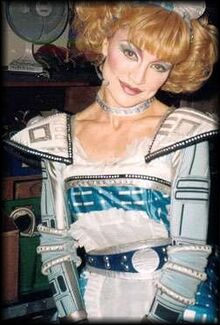 Starlight Express History
Edit
Japan/Australia Tour - 1987/88 - Swing
London - 1988 - Ensemble
London - 1989 - Ensemble
London - 11/1989 - Ashley
London - 1993-94 - Ashley
London - 1995-96 - Dinah
London - 1998-99 - Swing
London - 2000-01 - Swing, Dance Captain
Performed in Cats
Sister to Stephanie Spellman.
1988 Biography
Edit
Deborah started training at the age of nine with the late Biddy Pinchard. On leaving college she joined the Role Call Company, in which she danced 'The Doll' in their production of Petrushka. Since then she has toured Mexico with a circus, appeared in the pantomime in Scotland, and, most recently, worked on stage with Rudolph Nureyev in his production of Romeo and Juliet for London Festival Ballet. She is delighted to be part of the Starlight Express Touring Company.
Ad blocker interference detected!
Wikia is a free-to-use site that makes money from advertising. We have a modified experience for viewers using ad blockers

Wikia is not accessible if you've made further modifications. Remove the custom ad blocker rule(s) and the page will load as expected.