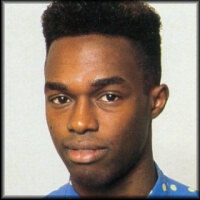 Starlight Express History
Edit
Japan/Australia Tour - 1987/88 - Electra
Bochum - 1989-90 - Electra
1988 Biography
Edit
David Michael Johnson hooks on to Starlight Express from the United States of America. A small town boy at heart, he left his native Columbus, Ohio, for the bright lights of New York City where he studied at New York University and appeared in many productions including Porgy and Bess and Singin' in the Rain on Broadway. He's made several television appearances and music videos, but his favourite role came in the Magnificent Christmas Spectacular at Radio City Music Hall in which he portrayed the Blue King in the Living Nativity, complete with entourage of camels, donkeys, sheep and slaves! David Michael thanks the Starlight Express for "showing me all the places I have never been". J.D. . . .thanks for the skates!
Japan/Australia 1987
Bochum 1989
Ad blocker interference detected!
Wikia is a free-to-use site that makes money from advertising. We have a modified experience for viewers using ad blockers

Wikia is not accessible if you've made further modifications. Remove the custom ad blocker rule(s) and the page will load as expected.