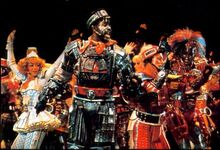 They're not just any trains-they race, love, and create rivalries- but they're all the offspring of a child's dream! All the characters in Starlight Express are vividly drawn in large strokes, calling on archetypes and signs to communicate who they are to the audience at speed.
Characters
Edit
Ad blocker interference detected!
Wikia is a free-to-use site that makes money from advertising. We have a modified experience for viewers using ad blockers

Wikia is not accessible if you've made further modifications. Remove the custom ad blocker rule(s) and the page will load as expected.