Buffy is the easy-going Buffet Car in Starlight Express. She is close friends with Ashley, Dinah and Pearl, forming the Passenger Train. In Expreso Astral, her name was hispanicized, and she became known as Botana.
Personality
Edit
Buffy is an easy-going girl, "Hot and cheap and quick" is how she introduces herself. She's a smart, practical girl, she doesn't get emotionally attached or too upset when things don't go her way. She'll flirt with anyone, and is willing to go along with changes of plan and adapt to new situations.
Appearance
Edit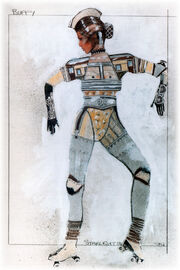 Unlike the other coaches, Buffy does not have a skirt. She is streamlined and efficient in style, with chrome trim, stockings and garters built into the design of her leggings.
Her costume is in shades of cream to gold and copper. She has a folded napkin tucked into the back of her belt. Her main feature of her costume is the chest box, which is a display cabinet showing cakes behind perspex windows.
Broadway
Edit
In the Broadway production, her shoulder boxes became simpler train carriage boxes in line with the other coaches. She had cream leggings with 'window stripes', and her leotard was patterned with diamonds. She also had stripes on her upper arms to represent the suspension springs that railroad carriages sit upon. This costume is also used in the Bochum production, although the lighting would sometimes give the illusion that her cream stockings were orange in color.
Las Vegas
Edit
The Las Vegas production saw some significant changes to Buffy's costume. To give the illusion of her baring more flesh, her cream stockings, which had been turned into silver in color, were worn over flesh-colored body stockings, giving the impression that her upper thighs were naked, and that she was wearing a bikini. Her diamond-designed midriff was removed to make her stomach bare. Her chest box was also lowered to give a visible cleavage. Ironically, Buffy is the most covered-up of the coaches, as she is still wearing stockings on her legs.
In the Spanish-language Expreso Astral, Buffy's costume was a combination of her Broadway and Las Vegas costumes, here she is wearing her Las Vegas costume but with the midriff present, although it is just plain with no designs on it.
The short-lived Starlight On Ice production saw a complete redesign of Buffy's costume. It no longer contained any yellow or gold, but blue and white, and this time she had a skirt. Her bodice and sleeves resembled folded napkins, and in her hair was a single flower in a vase.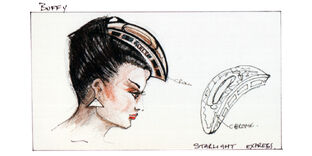 Buffy traditionally had her hair done up in a French Twist, with a small hat containing a hotdog and some salad, which she occasionally nibbles on, pinned on top.
The Bochum production has seen varying wig designs, ranging from French Twist to a French plait that went down her back. Her hair has ranged in colour from black, all shades of brunette, ginger, to a brassy blonde. She has also had designs similar to Dinah, with a shoulder-length bob flicked out, but half her hair was pulled up. Throughout she always had the small hat, regardless of wig style. In 2013, as a nod to the original London production, Buffy's wig reverted back to a French twist, but unlike the original wig, it retained its ginger colour.
Buffy's first entrance in the original show is "Call Me Rusty", where she and the other coaches try to dissuade Rusty from what they see as a hopeless case, him wanting to enter and win the race. She then also joins with Dinah and Ashley trying to dissuade Pearl from racing with Rusty, explaining that, sweet tho he is, he lacks "A Lotta Locomotion". Buffy hooks up with Espresso for Race One, but they're beaten by Greaseball and Dinah. When Dinah falls apart singing "U.N.C.O.U.P.L.E.D.", Buffy patiently waits to let her get her story out, before joining Belle and Ashley in picking her up again. Buffy and Ashley are particularly close in the choreography for "Girls' Rolling Stock". In the revised London show, Buffy got a lot more racing to do once Caboose was cut - she ended up racing with Rusty for the Uphill Final, and then with Electra for the Downhill Final. This re-arrangement required a few new lines of dialogue - after Girls' Rolling Stock, and Purse has collected Dinah, Ashley and Buffy discuss what to do next.
| | |
| --- | --- |
| Purse: | Dinah, you're honoured, Electra has chosen. |
| Dinah: | Yeah, ok, I'll race with him, But if Greaseball changes his mind.. |
| Ashley: | So who do we go with? |
| Buffy: | You and the French train make a great team! |
| Ashley: | You take Rusty, use a head of Steam! |
| Buffy: | Crazy, I'm stuck with the slow one, it's crazy |
| Rusty: | Hey! It's me or it's no-one I'm crazy, going crazy, |
| Rusty and Buffy: | Going crazy, going crazy... |
Then an additional refrain in Dinah's Disco after Dinah has uncoupled Electra, in place of calling for Caboose:
| | |
| --- | --- |
| Electra: | Who cares, Who cares, Dining cars can make you wait for ever |
| | Hey, buffet, make my day, make it fast and make it now or never! |
| Buffy: | Electricity gives me a charge |
The Bochum production puts Buffy racing with Bobo while Ashley takes Espresso, although this switch has no consequences for the plot, as they both lose in the second Race.
London (Original & Revised)
Broadway
Japan/Australia Tour
Bochum
US/UK Tours
Las Vegas
Mexico
Lilia Sixtos
Nitzi Arellano
On Ice
New Zealand Tour
Ad blocker interference detected!
Wikia is a free-to-use site that makes money from advertising. We have a modified experience for viewers using ad blockers

Wikia is not accessible if you've made further modifications. Remove the custom ad blocker rule(s) and the page will load as expected.