Bobo, from France, is a TGV (train à grand vitesse"- "high speed train", though in the London production he was identified as "the 120 mile-per-hour Sudest")
Personality
He is comically French in his character and over-the-top mannerisms. Bobo is often heard ad-libbing French phrases in reaction to the events around him.
Role
In the original London production, Bobo raced with Ashley in heat 3 and was narrowly beaten by Poppa with Dustin. He is heard clearly in The Rap arguing that rather than Rusty taking Poppa's place, Bobo should as he came a close second. In the later version of the London show, when two racers from each heat make the final, Bobo and Ashley take the fourth place but are knocked out during the final race.
In the Broadway and subsequent productions, Bobo races with Buffy not Ashley, and does not make the final.
In the Japan/Australia tours, Bobo had an identical "brother" by the name of Coco. The ensemble roles were doubled to fill the enormous arena-sized stage.
Bobo was replaced in the Mexican production, and cut from the 2003 US and 2004 UK tours.
The actor who plays Bobo often understudies Electra and/or Rusty.
Appearance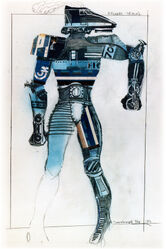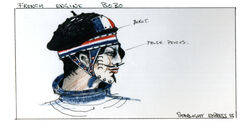 In the original 1984 London production, Bobo wore blue and white stripes. All the National Engines have a sense of being the same toy train, but repainted to give them individual identity.
His Broadway design, in line with all the Broadway costumes, was built with a much bigger budget allowing far more technical costume builds. This meant that he gained bulky shoulder and chest boxes, far more detailed leg patches, gloves, etc. However he retained the same original design from London that had been technically too advanced to be realised in the original production.
The German and Japan/Australia Tours kept the models of the blue Broadway costume, but re-coloured him in the original orange livery of the TGV (since replaced on the actual trains by a blue and silver colour scheme) Orange Bobo is essentially the same design, but the complimentary colour switch makes the costume feel very different.
One theory behind the colour switch is that potentially, seeing Hashamoto the Japanese Engine in yellow could be considered offensive, as he was changed from yellow to blue. Therefore the previously blue engine needed to be changed to a different colour to keep the variety among the chorus engines.
Gallery

Cast
London
Broadway
Japan / Australia Tours
Bochum, Germany
US Tour 1989 - 1991
Las Vegas 1993 - 1997
US Tour 2003 - 2004 (Cut)
UK Tours 2004 - 2008 (Cut)
NZ Tour 2009 (Cut)
UK Tour 2012-2013 (Cut)
Ad blocker interference detected!
Wikia is a free-to-use site that makes money from advertising. We have a modified experience for viewers using ad blockers

Wikia is not accessible if you've made further modifications. Remove the custom ad blocker rule(s) and the page will load as expected.