This recording features musical numbers from the 1997 Mexico Production of Starlight Express. Titled Expreso Astral, it was never released owing to complications with the rights.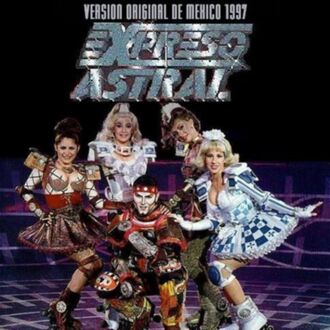 Songlist.
Edit
Obertura (Overture).
The Power of the Rails (Rolling Stock).
I'm Mexican, So What? (Call Me Rusty).
A Lotta Locomotion.
He'll Whistle at Me.
Loyal to the Rails (Freight).
Male/Female (AC/DC).
Pure Muscle (Pumping Iron).
Loco (Crazy).
My Heart Can't Stand It (Make Up My Heart).
The Chief's Blues (Poppa's Blues).
Express of the Stars (Starlight Express).
The Rap.
U.N.C.O.U.P.L.E.D.
I am the Starlight.
The Fourth Race.
Because I Raced Too Fast (One Rock 'n' Roll Too Many).
If You Look for Another Love (Next Time You Fall in Love).
Light at the End of the Tunnel.
Angelica.
Marco Anthonio.
Fernando Barrios.
Elizabeth Castorena.
Mario Cervantes.
Alberto Diaz.
Maru Duenas.
Bernardo Espinoza.
Erick Frias.
Carlos Gastelum.
Efrain Gonzalez.
Karen Juantorena.
Manuel Martin.
Martin Munoz.
Alejandra Murga.
Diana Navarro.
Hector Ocampo.
Enrique del Olmo.
Jamie Rojas.
Ricardo Santo.
Lillia Sixtos.
Berch Skerly.
Tomas Tamez.
David Tort.
Christian Uribe.
Mercedes Vaughan.
Eduardo de la Vega Vaughan.
Credits.
Edit
Ad blocker interference detected!
Wikia is a free-to-use site that makes money from advertising. We have a modified experience for viewers using ad blockers

Wikia is not accessible if you've made further modifications. Remove the custom ad blocker rule(s) and the page will load as expected.