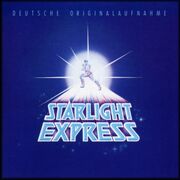 The Original German Cast album, released in 1988, is a concept/studio recording rather than a live recording, however apart from "
Du Allein
" it is the cast performing.  The songs have a wonderfully evocative 1980s feel to the arrangements, totally unlike the stage version but very entertaining.  While this album doesn't reflect the stage show, it encapsulates the era in which the show premiered.
The following year, the 1989 Complete Live Cast Recording was released, offering a complete contrast to this concept album.
Songlist.
Edit
Overture.
Rolling Stock.
Liebesexpress. (Love Express)
AC/DC.
Hilf Mir Verstehen. (Help Me Understand)
Ganz Allen (Dein Freund). (All Alone - Your Friend/There's Me)
Papa's Blues.
Starlight Express.
'Ne Lok mit Locomotion. (A Train with Locomotion)
GEKKUPELT. (UNCOUPLED)
Starlight Sequenz. (Starlight Sequence)
Ein Rock 'n' Roll Zuviel. (A Rock 'n' Roll Too Many)
Du Allein. (You Alone)
Ein Licht Am Ende Des Tunnels. (A Light at the End of the Tunnel)
Ad blocker interference detected!
Wikia is a free-to-use site that makes money from advertising. We have a modified experience for viewers using ad blockers

Wikia is not accessible if you've made further modifications. Remove the custom ad blocker rule(s) and the page will load as expected.